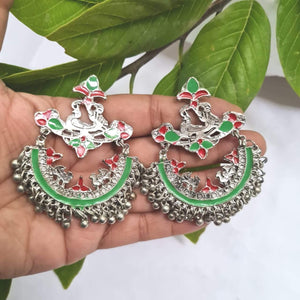 Order On
WhatsApp
 Add charm and charisma to your beautiful personality with these exquisitely designed and handcrafted high quality Silver tone Earrings.
Pair them up with any casual or semi formal attire and gather compliments all the way.
Care: Store in an air tight pouch.Do not leave them outside exposed to air.  It is advisable that you keep our products away from direct heat, humidity, and moisture. It is best to preserve your jewelry in the box.
To view our oxidized silver tone collection visit:-
https://www.gemzlane.in/collections/oxidized-antique-jewellery
Material - Made with silver alloy.

Shipping time
Ships in 1-3working days
Delivery time

Normally within 1-2 week




(Exceptions may be there)