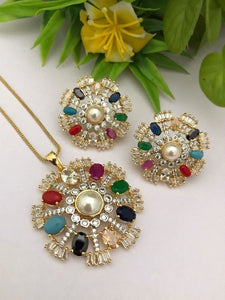 Order On
WhatsApp
Look Stylish wearing our Navratni Multistone American diamond Pendant set.
Dress up to create a look that's all your own.
Handcrafted by the Traditional Craftsmen of India.
The Cubic Zirconia (also known as American Diamond Necklaces) are made of Original Star Cut Quality Cz stones. 
Gold polished
High Environmental alloy.
Free of harmful chemicals.
Swarovski elements
Daily wear Jewellery-Birthday gift for her-Jewellery for office wear,Kitty parties,Birthday parties,social gatherings,Online meetings.Jewelery for Bridesmaid .Perfect gift.Wedding gift for bride.