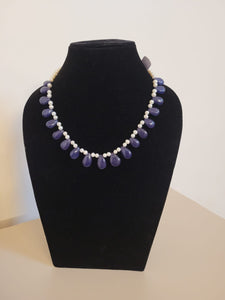 Order On
WhatsApp
This is a beautiful precious Blue Sapphire Quartz drops and Real Pearls Choker necklace with earrings .The Blue beads are in pear shape. The Blue beads are graduated and measure approximately 10-15 mm by 5-10 mm.

You can wear it with your traditional outfits as well as evening gowns and make heads turn and jaws drop. The necklace comes packed in a beautiful gift box ,so It makes a Perfect Gift Item as well.

Best quality.Classy neckpiece,handcrafted using the finest gemstones.Ideal for office wear,social parties,friendly outings,family get together,gifting purpose.
For all our range of Precious and Semiprecious necklaces visit here:-
https://www.gemzlane.in/collections/precious-stones-necklaces

NOTE -
#You will receive the same product you see in picture.
Your satisfaction is our ultimate goal. Please feel free to email us your feedback, suggestions, questions, comments and how much you love your purchase and everything else.
Necklace length

12inches with adjustable indian traditional thread
Necklace weight
250cts
Earrings size
Length-2inches
Stone used

Real Pearls,  Blue Sapphire drops

Colour
Blue colour ,white
Necklace type
Handmade,Party wear, social gatherings,birthday party,ideal for gifting
Shipping time
Ships in 1-3days
Delivery time

Normally within 1 - 2 week

(Exceptions may be there)